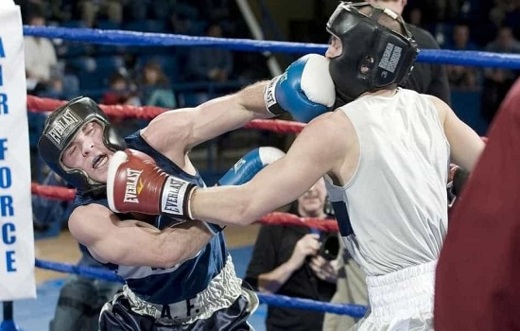 A tough sport like boxing demands hours of workouts in the gym to improve a boxer's skill and craft to emerge victorious in the battle. But when do you recognize or know, that your efforts and training is that much enough to put your name forward in a real one-to-one competition, is the main question. The article addresses this question and would help you wonder how to emulate yourself for the match. Before desiring to step into the ring, you must ask yourself whether you have the athletic ability and the enthusiasm to convert this ability into fighting skill. Training and learning several combos and hitting the bags for just several weeks would not make you better enough to appear in a real fight. Some putative power must be indulged like determination, versatility, fast-learning, before getting into the idea of entering a competition. Boxers need to be punctual in their training sessions and must listen to their trainer. Dedication is not the only key to success but being a good listener too. Listening to your trainer and obeying him would make you compete extraordinarily in the ring leading to victory in the competition. If you are satisfied with your effort then here are some tips to realize whether you are competition-ready or not.
Your Coach's Opinion Is Vital
The best guideline to act upon in deciding whether you are prepared to enter the ring is the opinion of your trainer. According to boxing experts, the period between the first coaching and the first real-life battle greatly varies from boxer to boxer, but the best answer to the question of entering a competition can be answered best only by your trainer. If your coach is sincere with you, he will provide all the necessary guidelines to you honestly. A coach who is dedicated to your improvement and success would always provide you with the best judgments regarding your skills and training. As no one observes you while training more than your trainer, he is familiar with your performance and knows which training gears fits you and knows best when to allow you for a real fight. So, when he allows you to go for the battle it means you are competition-ready now. If your coach feels some deficiencies in your training, he would not suggest you for the battle it means you need to train more. That is why you cannot train by yourself and need to work out under the supervision of a professional and qualified coach to breach the battle professionally for a long term.
Achieving A Specific Fighting Endurance Level And Capacity
Developing fighting endurance is a major factor to gain victory in a fight. The more endurance capability one bears the longer he would survive in the ring. Once you get your grip on surviving the ring by developing endurance, you can bear the most aggressive, expert, and vigorous fighters in the ring. Outstanding endurance capability is what it takes to confront your professional rival in the ring. At the initial stages of your coaching, you should consult your coach to set particular strength and fitness goals. These goals should be made keeping in mind the specific signs of endurance capacity that are required for ring-readiness. The targets can be set to measure your progress regarding conditioning and tolerance, these can be in the form of various workouts. Some can be measured in metrics and others can only be assessed by your coach. The training that can be measured objectively can be setting a goal to run for a specific distance in a certain fixed time. Another excellent source of measurement of tolerance for boxers is the skipping rope. For example, setting a certain time during which jumping rope should be done without stopping. Similarly, a certain speed of jump can be fixed, check your capacity of tolerance. The ways to go for tolerance indication depend upon you and your coach to decide. Other ways for assessing endurance are based on your trainer's observation and evaluation. During your sparring period, your trainer has keen eyes on your every movement. Coaches are observing your punches, footwork, your body reflexes with a sharp eye to analyze your progress in capacity. They want to view your capability at the start and the end of the practice, whether you are as much active as at the end of the training as at the beginning or after how long you get sloppy during sparring. If your coach finds you lacking in your basics then you are not ready for a battle.
Exhibiting your Boxing Abilities
After periodic sessions of working hard and achieving your required endurance goals, it is time to illustrate your determination and willpower physically in your performance. It is the point to prove your competition-readiness, to express your excellent performance and capability before signing in for a real boxing fight. Your trainer would assist you in setting up a session like a real-battle to analyze the mastery of your skills and techniques. You must be mentally and physically prepared to exhibit your abilities in several sparring sessions especially in the weeks near to the fight-day.
Make Sure Your Conscious And Physical Being is Fully Ready
When you have passed the final part of your approval to the ring , it is time to ensure your inner conscience and benchmark. Whether you feel satisfied and confident in your training. You are mentally and physically stable to bear the injuries you may get during the competition. Is your defense, speed, power, and autonomy are steadfast for your success in the ring. If you have cleared all these landmarks then you are good-to-go for a real boxing match.
Keynote: Being in shape and being in fighting shape are two totally different aspects of training. How to know that your training has formulated you in a fighting shape, ready to enter a battle is the main question. Without proper training and opinion from your coach entering a competition could lead to significant injuries.
Want to learn more? Sign up for our
NEWSLETTER
below and start receiving more Tips & Info by E-Mail.